THIS POST MAY CONTAIN COMPENSATED LINKS. FIND MORE INFO IN MY DISCLAIMER.
It was absolutely freezing as we left the green Cedar Forests of Azrou in the Middle Atlas Mountains. We'd woken to white frost covering the field beside us and as we drove, we passed large patches of snow under the trees. These icy white patches continued for the first 100km along the N13 to the town of Zaida. Some sections of road had thick piles of snow alongside, which Tai naturally had to stop and have a bite of!
The most remarkable thing I've noticed in Morocco is how quickly the landscape changes from one stretch of road to the next. We began today in the thick Cedar Forests, which quickly turned into rocky barren hills. The hills then leveled out surrounding us with green arable farmlands and small mud house villages. Then up we went into another densely forested area only to find ourselves in the flatlands of red clay rocks down the other side.
We had passed over the top of the Middle Atlas Mountains and were now in a valley with the snowcapped High Atlas Mountains creating a stunning backdrop to drive towards.
It is not only the scenery here in Morocco that will amaze you but the things you see on the road that will amaze you as well. The roads are heavily policed at main intersections and entrances to towns. Barricades of sharp metal spikes are strewn across the road forcing you to slow down and drive very carefully through. The locals are pulled over religiously, handing over all manner of documents before being allowed to pass. I had read blogs where travellers actually laminated their documents to protect them from all the handling. So far, we had been waved through at every stop. Perhaps a directive has been issued to let all foreigners pass? I wonder if you were in a local hire car if you would just be waved through?
With all the policing, you would expect that the state of the vehicles on the road would also be called into question? Apparently, not as is evidenced with the unbelievable overloading we have seen. Every day we pass trucks that have a load towering high above. How these remain in place is a wonder and why the police allow it is another wonder.
A brightly painted restaurant on the outskirts of Zaida caught our eye, so we stopped for a coffee and to play with the kitten. A Tariq Berber with a full turban was our waiter. He spoke 4 languages and had the most lovely smile, so we indulged him with a look around his souvenir shop. Nothing tickled our fancy so we made no purchases and continued into the small town of Zaida.
I needed money but the first two ATM's said they couldn't recognize my bank. I couldn't understand why as I've used these same cards in numerous countries through Africa, Asia and Europe with no issue. We were heading into the desert and I had no idea how remote the places were and if there would even be ATM machines. I have to admit I got a little panicky. Walking over the bridge out of town I found a third ATM and hooray – it worked! It was a Maroc Credit Agricole bank and it seems to be the only one I can use. The next hitch is that the ATM's in Morocco only allow 2000 Dirham (€200 or R3000) to be drawn at one time., although you can draw twice per card per day.
In the centre of town was a roundabout and dotted around it were at least 5 restaurants, all with a couple of tagines bubbling away and hot coals cooking meat kebabs. It all smelt so wonderfully delicious that we decided to stop for lunch. Within minutes our table was laden with Moroccan salad (tomato, cucumber, onion and cumin), a vegetable tagine to share and plates of brochettes (kebabs) and frites (chips). Big baskets of bread and Berber Whiskey (mint tea) joined the already groaning table. And last but not least… wine for my fellow travelers quickly retrieved from the campervans!
With full bellies and the day warming up nicely, we set off towards the High Atlas Mountains. The next main town was Midelt with its fancy street lights and wide boulevard like pavements on entry and exit to the town. It is definitely a sign of the prosperity of a town and urban planning extending the city for future development. Midelt sits at an elevation of 1500m, making it one of the highest large towns in Morocco. We had other things to see and places to get to though, so didn't stop.
We found ourselves at the foot of the High Atlas Mountains and taking us up and over the top was the Tizz n Tighoumte Pass. The road was good, winding us up and through rocky mountains of pink and orange hues. The sky was a brilliant blue with not a cloud in sight. There hasn't been any rainfall here in years, so no moisture in the air to create the clouds. Our photos and videos do no justice to the magnificence and beauty that beholds us here in Morocco. Behind every corner is a different coloured hill or a majestic snowcapped mountain or a barren but unbelievably beautiful flat landscape. Traveling in Morocco is not about what you'll find at your destination but being blown away with what surrounds you on your journey between destinations. I want to bottle the smells and etch this beauty in my mind forever.
I had read that there were hot springs at a blip on the map called Hamat Ali Cheri. We'd had a fabulous time at hot springs in Albania and in Tuscany in Italy and I was really looking forward to a long soak to ease my muscles after all these long days behind the wheel.
Jeanne, Theo and Tai opted out, but Jeanne-Francois and I were keen so off we were led by the ever present Moroccan man that appeared as soon as we had stopped. There was a hammam and the entry fee was 10 Dirhams (€1 or R14). I could even have a massage for an additional 30 Dirham. Now that sounded fabulous! I'm in! So I packed my bikini in a bag with a towel and off I was led by the lady who was going to give me the massage.
A Moroccan Hammam as like a Turkish bath. It is a steam room, usually with a thermal pool for cleansing and relaxation. Are you picturing a luxurious spa with pools and wood clad steam rooms, neat rows of lockers in the changeroom, white robes and toweling slippers? So was I. And what a big shock was really in store for me!
Before we entered the hammam, I was handed a plastic bucket, the purpose of which was beyond my understanding of the Arabic language. Blindly I followed the "massage" lady through the doors only to find myself in a large room. White tiles covering the floor, walls and ceiling. In the centre of the room was a rectangular pool with water so hot, the steam was evaporating off it. I later found out it was 45°! Probably the reason why there was no one actually in the water. Sitting on the tiled floor all around the pool were more than 40 local Moroccan ladies, clad only in their knickers, 40 pairs of huge breasts dangling over mountains of tummy rolls. Have I mentioned they like sugar and sweet pastries?
Along the walls was a low bench and hooks where clothes and bags had been placed and here and there ladies stood over each other scrubbing their backs or arms with a facecloth. The Moroccan version of a "massage"!
I am sure they had all been having a grand old time, chatting, laughing and exfoliating onto the tiles. Then I walked in. This blonde haired, blue-eyed foreigner who was a good 30kg lighter than any of them and suddenly the chatter stopped and all eyes were on me! I hung up my little bag still desperately looking for another room in which I could change into my bikini, but this room was it. My dreams of lying on a quiet massage table having the tension and knots kneaded out of my aching muscles was never going to happen. The reality was I was going to have to undress while all 40 women stared at me, only to then sit on the wet tiles in amongst everyone else's exfoliated dead skin and have some strange woman rub me up and down with a facecloth. I don't think so!
I grabbed my little bag off the peg, indicated to the masseuse that I was leaving and hightailed it out of the hammam as fast as my legs could take me. I can rough it at the best of times, but if I'm going to visit a hammam, there need to be white robes and toweling slippers, please!
I later found out what the plastic bucket was for. The thermal pool water was too boiling hot to touch so they put cold water in the plastic bucket and just added a little thermal pool water to make a nice warm mixture.
Just outside, I found Jeanne and Theo enjoying a lovely cup of mint tea in the sunshine. A far better choice than visiting the hammam! After tea, we wandered down to the river where we found a natural thermal pool alongside the river. Locals had used mud to make a small wall around the pool and apparently women and men were allowed alternating hours to be in the pool. The water was deliciously warm and surrounding the river was the beginning of the Ziz Gorge with its orange and pink cliffs, so a stunning setting. There were only 2 old ladies there, wallowing in the healing waters. Now, this natural pool was way more my style, but time was ticking and on we had to move.
The Ziz Gorge was just beginning and the road wound in a snaking fashion, following the twists and turns of the Ziz River beside us. Towering cliffs of orange clay rose up on either side as the sun started setting on our last few kilometres for the day. Our destination was Camping Jurassique (32.154, -4.375881) and we were welcomed by big smiles and a promise of a great meal.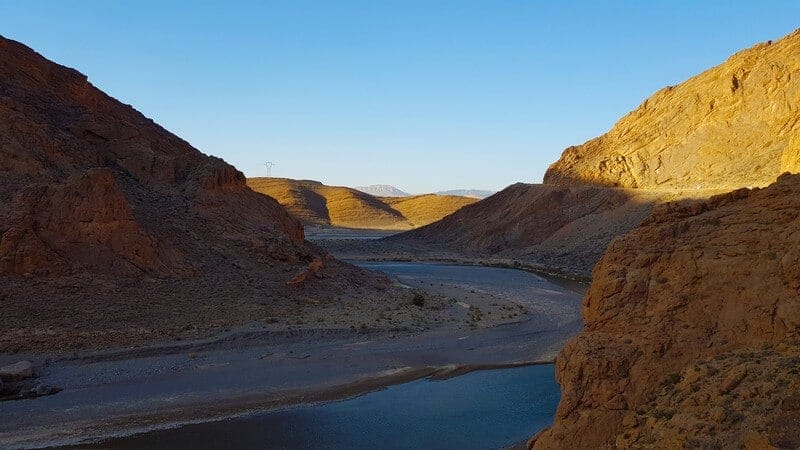 Tagines take a while to prepare so we got parked up and I managed to get a load of washing on before we were summoned to the restaurant. A huge fire was crackling in the corner making it nice and cosy. It was still pretty icy outside. Moroccan salads were served all round and then a huge tagine arrived in the centre of the table with Kefta Tagine to share.
Kefta Tagine is lots of really small meatballs, cooked in a tomato, onion and pepper salsa with fried eggs on top. It really is delicious! Fruit and yoghurts for dessert. All up it cost 200 Dirhams (€20 or R300) for a 3-course meal for the two of us and our camping for the night.
Thankfully I slept like a log so no hammam nightmares!
Here are a few more photos of our trip from Azrou to Ziz Gorge – The Middle Atlas to the High Atlas Mountains….