THIS POST MAY CONTAIN COMPENSATED LINKS. FIND MORE INFO IN MY DISCLAIMER.
Miles McFlattery, our campervan, is sitting in a Cedar Forest in the Middle Atlas mountains. It's 5° outside and about 3° inside Miles!! It's been another busy day so going to bundle up in bed early tonight.
The traffic in Fes is quite crazy and I can honestly say that the Moroccans are by far the worst drivers I have ever encountered – impatient and pushy and they will absolutely never let you in! But the Carrefour supermarket was in town, so we braved it in order to stock up the pantry and let our fellow travelers get some much needed essentials – wine!
We were quickly on the road, heading South-East on the R503 towards the desert. Our first stop was the small town on Bahlil to see ancient Troglodyte caves. Although the Troglodytes are long gone, the caves are still being used to this day. It took a few stops to ask for directions – how grateful we are to our French speaking travel mates! A good decision was made to rather reverse down the lane instead of continuing on what could not be considered a road before we parked up. Our arrival just happened to coincide with the end of the school day and within seconds our 3 campervans were swarming with young kids asking for money and sweets.
The excitement continued as Jorka, the border collie, jumped out the campervan and the kids turned tail and scattered in every direction. It wasn't long till their inquisitiveness overcame their fear and some were even brave enough to give her a tickle.
The kids led us down a steep flight of stairs alongside a deep canal lined with houses. A pretty little girl with pink pompoms in her hair beckoned us into a house. We weren't sure if this was the way to the caves or if she hadn't understood what we had wanted. On entering we realized we had been allowed into someone's home to see the caves as they are used today. From the front door, there was a short passage into a kitchen, which was actually a cave. The kitchen then led onto a number of alcoves, each lined with couches and carpets with the cave making the walls and ceiling. It was really amazing to see!
The swarm of kids followed us back to the campervans, upping the ante of "money please". One young boy even put his arm through our window and took our book on Morocco. Tai caught it just in time and promptly slammed the window closed. I'm still not sure if the kid was really going to take the book or if he was just joking, but it was a sad way to leave.
The next town was Sefrou. What a spectacular sight it was with the town perched on the hilltop and the snowcapped Middle Atlas mountains providing the most stunning backdrop. After a full day in the Fes Medina, none of us were too keen to wander another medina, so we headed to the local attraction – the Sefrou Waterfall. We've seen many waterfalls in our travels and this was nothing to write home about, but we did have the most wonderful lunch stop, picnicking under the trees. Cheese, wine and lots of laughs!
From the R503, we took a single lane road (P5016) to cut across to the N8. The scenery suddenly changed from verdant green rolling hills to a brown, barren, rocky landscape. We almost felt like we were on the moon! The road was definitely not the best with some sections of tarmac so eroded on the sides that both wheels couldn't fit at the same time. There were big trucks and lots of dust but the views were spectacular. Just as quickly, the scenery changed again, becoming green with tall trees, green grass and a shimmering blue lake.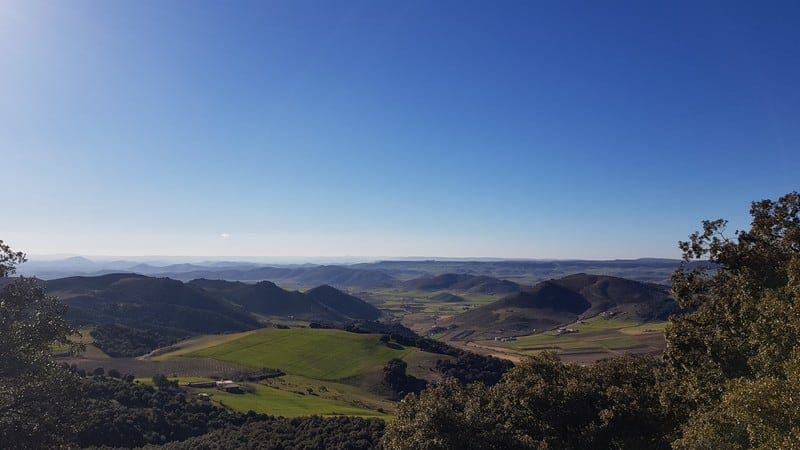 We passed through the town of Ifrane, also known as "Little Switzerland" and that was probably why we didn't stop. It looked like every other European town and we're here to see Morocco! Ifrane is one of the few towns with A-frame instead of flat roofs. The reason is the heavy snowfall and the need for the snow to be able to slide off. There were only patches of snow here and there, but when there is snow, Ifrane is the site of one of Morocco's skiing resorts. Not the most up to date equipment, but good enough for some fun!
Just before the town of Azrou, we turned left onto the N13 and headed into the Cedar Forest where we would be wild camping for the night. We were hoping to catch sight of the endangered Barbary Macaque's, one of the best known Old World monkey species. Oh boy, were we in for a treat! There was a whole troop of them at the parking lot and they were as tame as anything, taking fruit and peanuts right out of our hands! By the chubbiness of some of them, I think they spend their days here being fed by gawking tourists! They were really cute though.
Tai is a crystal freak and has bought some wonderful crystals on our trips. Today was no exception. His bargaining skills picked up in Asia had not left him and he masterfully negotiated some great deals from the stallholders in the forest carpark. He bought a black geode egg with bright purple amethyst inside, which on closer inspection turned out to be white crystals dyed purple!! Apparently, a common practice that catches a lot of tourists. He did buy some other un-dyed geodes and some magnificent fossils. All in all some great pieces.
The road to the wild camping spot was covered in ice so we decided to stay in the parking lot for the night (33.4195839, -5.1775308) along with 20 stray barking dogs. There is snow on the ground and we don't have electricity tonight, so no heater! I guess Tai and I are going to have to huddle real close tonight!