THIS POST MAY CONTAIN COMPENSATED LINKS. FIND MORE INFO IN MY DISCLAIMER.
Right at the very Southernmost tip of the Istrian Peninsula lies the Kamenjak Peninsula or Cape Kamenjak also known as the Peninsula of Premantura (Punta). This 6km long, narrow cape has beaches, coves, wildflowers and uninhabited islands dotted all around. The water is crystal clear and offers magical snorkeling and cliff jumping opportunities.
Cycling at Cape Kamenjak
A few people had recommended we go and that it would be great to cycle around as there are paths crisscrossing the whole cape. So we parked Miles McFlattery, our campervan, just outside the entrance gates and started pedaling. And yes, it would have been fabulous, had we been on mountain bikes. But, oh boy were those roads tough! To say that our city street bikes weren't too easy to ride on the rocky gravel roads is an understatement, but we did nearly 7km of it! Although young master Tai was on the verge of tears by the time we got back to Miles.
We did see lots of other people riding bikes, but all of them were proper mountain bikes, so I am sure they were having a much better time of it.
The Crazy Safari Bar
On the Eastern tip was the famous Safari Bar and what an experience it was! Tables all tucked into nooks and crannies with foliage and trees making low passageways through which to navigate. There were endless novel things for kids to play on and in, swings, roundabouts and rolling barrels.
Cliff Jumping
After lunch, we followed the path to the cliffs from which everyone was jumping into the beautiful blue water. Tai gave it a good go, but after him shrieking about how cold it was, I decided to refrain from having a dip myself. It was pleasant enough just soaking up the sun and marveling at the colour of the Cape Kamenjak's water.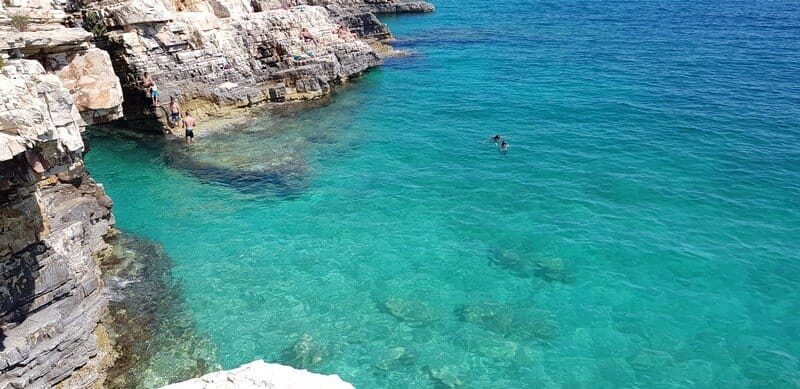 Cape Kamenjak otherwise known as Premanatura is absolutely gorgeous and the Safari Bar is vibey and brilliant for the kids. If you're on the Istrian Peninsula, I would highly recommend spending the day here.
Like It? Pin It?