THIS POST MAY CONTAIN COMPENSATED LINKS. FIND MORE INFO IN MY DISCLAIMER.
Hanoi, Vietnam… a city that lives, eats, drives, sells and breathes on the streets. Grab a chair, put it on the pavement and you have a restaurant. Stick a mirror on a wall in a road and you have a barbers shop. Put some veggies on paper on the sidewalk and you have a shop. Live, eat, drink, fix motorbikes, make a fire and boil a kettle… on the street. Here follows our city guide to Hanoi which includes a list of all the things to do in Hanoi.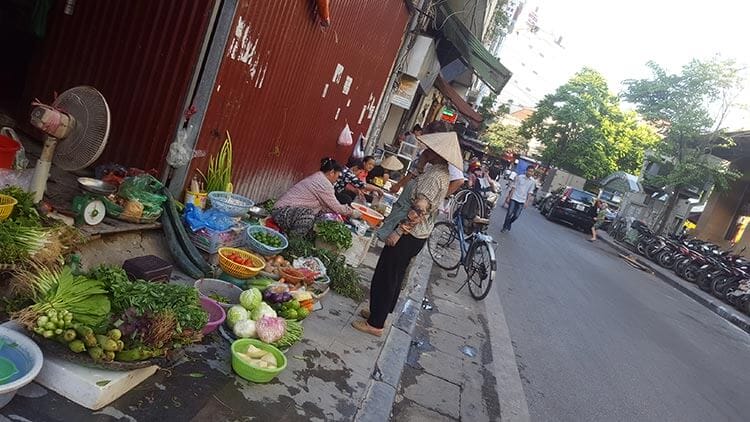 Our City Guide to Hanoi
How to Cross the Street
The traffic – oh my word! Crossing a street can be a positively terrifying experience! When we first arrived I didn't think I'd ever be able to get anywhere, but then we learnt to just walk – slow and steady and most importantly – NEVER hesitate. It is quite something to behold how as you cross, somehow the multitude of scooters and cars just keep flowing and you pop out the other side.
Things to do in Hanoi
Explore the 36 Streets of the Old Quarter
We stayed in the Old Quarter which is made up of 36 streets. Each street has a specialty, so one street just sells sunglasses, the next hardware and paint, the next gaudy religious icons, the next silk, one for toys, even one for custom designed scooter seat covers! And boy, did we walk those streets – coffee frappe in hand – salivating at the exquisite clothing that so wanted to be bought but no space in our tiny bags! Ladies, this is where you come when you want to stock your cupboards with summer dresses!
Street Food Tour
We did an entertaining street food tour with a hilarious guide who went out of his way to find us the most outlandish food to eat – kidney & liver pate, deep fried eel, the rankest seafood paste I've ever smelt, baby rice deep fried in egg that had the texture of sago pudding – we barely ate, but laughed till we cried.
He took us through the streets of the Old Quarter, stopping at various "restaurants" food stalls, where he would present us with our next bowl of exoticness! We sat with locals, got to explore the city, sampled things I may never try again and found out a huge amount about the Vietnamese culture from our guide. We ended the evening in a beer house – which you should never enter if you are a single girl – you will be seen as a "loose" woman! If you are in Hanoi, then a street food tour is an absolute must!
Ho Chi Minh Mausoleum
The Ho Chi Minh Mausoleum is a memorial to the Vietnamese leader, Ho Chi Minh and Vietnam's revolutionary struggle against foreign powers. It is located in the center of Ba Ðình Square, which is the place where Ho read the Declaration of Independence on September 2, 1945, establishing the Democratic Republic of Vietnam.
Museum of Ethnology
The Museum of Ethnology was a real hit with Tai! There are 54 recognised ethnic minority groups in Vietnam, each with their own traditions, cultures, clothing, housing and languages. The Ethnology Museum has huge sprawling grounds with a number of houses modeled after the traditional architecture of the ethnic minorities. Each one is magnificently crafted and furnished to depict the daily life of that minority group. We loved climbing up the steep ladders, exploring all the huts and seeing how they lived, ate and slept. There is also a water puppet show, with 6 daily performances, but we didn't see it as we had already seen a show in Hanoi Old Quarter.
Temple of Literature & Ancient National University
Found 10 minutes walk from the Old Quarter, the Temple of Literature is often cited as one of Hanoi's most picturesque tourist attractions. It is a temple of Confucius and although several Van Mieu can be found throughout Vietnam, the most prominent and famous is that situated in the city of Hanoi. It also functioned as Vietnam's first university. If you're wanting to get away from the noise of the city, the Temple of Literature offers a peaceful setting for you to relax.
Hoan Kiem Lake and Ngoc Son Temple
Hoan Kiem Lake, in the Old Quarter, is the very scenic historical centre of Hanoi. In the midst of the chaotic hustle and bustle and traffic, the lake and its manicured gardens offer a tranquil setting to watch the world go by. Walk over the red bridge to the island housing the Ngoc Son Temple, visit at dawn to see the locals practicing Tai-Chi or take an evening stroll and play shuttlecock golf!!
Hanoi Night Market
On Friday, Saturday and Sunday evenings from 7pm, this vibrant market can be found from Hang Dao Street to Dong Xuan Market. The walking streets are bustling and busy with people strolling, shopping and eating at the roadside stalls and from the local food vendors. There is lots of cheap clothing, souvenirs, sunglasses, food and other tacky trinkets. I wouldn't go for the shopping, but the festive atmosphere attracts large crowds of both locals and tourists, so a fun night out.
Water Puppet Show
When travelling with kids, how could you say no to a puppet show? So off we went to the Thang Long Water Puppet Theatre and it really was very enjoyable! The orchestra used some weird looking traditional instruments that made beautiful music with accompanying singers singing in Vietnamese. The whole show was done in water, with puppets moved on long bamboo poles. The scenes were clever and well thought out, in their depiction of daily traditional life. We all thoroughly enjoyed it!
Experience the Architectural History
Hanoi has an interesting architectural history which has left it with a unique melding of Chinese, French, Russian and local Vietnamese architectural designs. From ancient to modern and from Oriental to French, all happily co-existing alongside each other. It makes for fascinating strolls and lots of Kodak moments!
Day Trips from Hanoi
Trekking in Sapa
Trekking in Sapa was on of the highlights of our trip in Vietnam. Ancient rice paddies adorn the mountainsides from top to bottom creating the most spectacular vista. On your trek you will wander through these rice paddies, encountering tiny villages along the way. Here you will be welcomed with big smiles and have the opportunity to see local handicrafts being made. Your trekking guide will regale you with interesting facts about the people of Sapa as you watch the rice being planted and looked after by the locals.
You can opt to stay in a hotel in the town or you can stay in a homestay with a local family. We stayed in homestays and our interaction with these families not only made our visit that much more immersive, but it allowed us to assist the local community financially.
Read our full article on Trekking in Sapa
Bai Tu Long and Halong Bay
Another absolute must on your Hanoi to do list, should be visiting the UNESCO site of Halong Bay. To see these immense karst cliffs rising straight up out of the sea is quite a sight to behold! The way to see this is to do a 1-2 night cruise which generally includes kayaking and cave visits. Halong Bay has long been the most popular choice but over tourism is taking its toll and Halong Bay can often feel rather crowded. If you're looking to escape the crowds, then I'd highly recommend looking at Bai Tu Long Bay as an alternative. Bai Tu Long Bay is in the Halong Bay area, but just slightly East of the touristy hotspot. The karst mountains here are just as spectacular and the sea is clean and inviting.
Read more: Escaping the Halong Bay masses: Bai Tu Long Bay
Where to stay in Hanoi
We stayed in the Old Quarter and this is where I would recommend that you stay. It is amazingly central and you'll find that most attractions are a mere 10-15 minute walk away. If you're looking for something quieter, then head over to the French Quarter for a slightly more peaceful environment.
Click here for accommodation options in the Old Quarter in Hanoi
Click here for accommodation in the Backpacker Quarter in Hanoi
Where to eat in Hanoi
Vietnam is known for its street food, so rather than venturing into a restaurant, try something tasty, local and delicious. The street vendors have tiny shops with little – and I mean little – plastic tables and chairs that place on the sidewalk. Each vendor usually only serves one dish, so slow your pace as you're walking the streets and starting taking note of what people have on their plates. When something looks good, find yourself a seat and enjoy!
Here's a small guide on some of the basic dishes:
Bun Cha – Barbecued pork on a bed of rice noodles, usually served with a side order of spring rolls. This Hanoi specialty is one not to be missed.
Pho – Nothing beats a steaming bowl of beef broth with noodles and fresh herbs for breakfast. Tai is broth-mad and virtually lived on Pho during our time in Vietnam.
Bahn Mi – These are not sandwiches as we know it. These are gourmet creations that will leave you salivating for more. A baguette with your choice of meats, pickles, pate and vegetables all drizzled with gravy and chilli.
Egg Coffee – Coffee with condensed milk, sugar and egg yolk that is so moreish you'll go back for cup after cup.
The more time we spent, the more the city grew on us. I could go back tomorrow… although next time with an empty suitcase!
Like It? Pin It!