Bicycle Ride to the Pottery Village at Kampong Chhnang
THIS POST MAY CONTAIN COMPENSATED LINKS. FIND MORE INFO IN MY DISCLAIMER.
5km to the West of Kompong Chhnang is the small pottery village of Andoung Russei. Although it doesn't look very industrious, this is the center of production for the majority of all terracotta wares for the whole of Cambodia. Cycling through the village you will see various types of pottery being made underneath most of the houses. The villagers welcome anyone, so pop in and have a look around. We didn't find anyone who could speak English, but I did have a hilarious miming conversation with three elderly women who despite my not understanding, continued to natter away at me in Khmer.
The village is due West of Kompong Chhnang, along a sealed road, so easy to find. If you have the kiddies park on your right and the provincial hall on your left, just keep straight until the T-junction and then turn left. The village is about 4kms from town.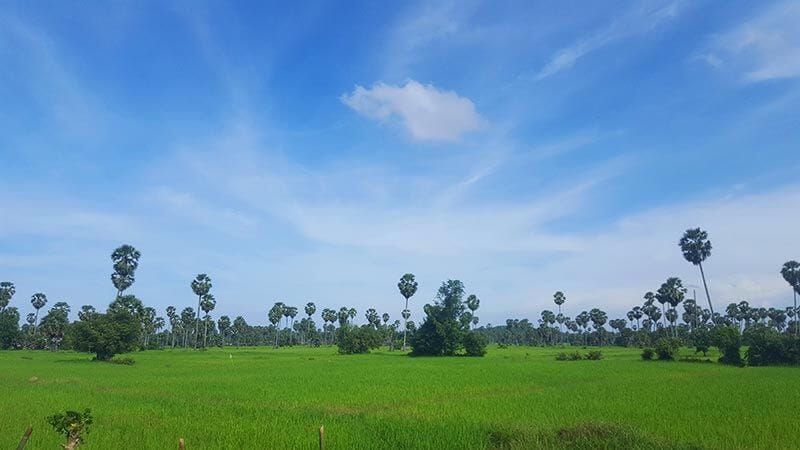 Our first stop was at a Workshop, just before the village, where hundreds of fire pots were being made. These are used throughout Cambodia to cook on, with hot coals being placed inside and a pot on top. There were various other pottery items, such as decorative pigs and cattle, serving dishes and bowls.
There were the ever present young children, who thought Tai was very funny and they all engaged in a game of trying to touch him, amid lots of giggles.
The next house we stopped at had a lovely lady making beautiful round pots in a fascinating manner. Starting with a tube shape, she banged the pot from the inside until it started taking on a rounded shape. The end result were these perfectly round bulbous pots and each one was virtually identical to the next.
The scenery here was spectacular, with green rice paddies, dotted with immensely tall sugar palm trees, all set to a backdrop of the bluest sky. Breathtaking!
The villagers were all incredibly friendly with lots of Hello's shouted from every passing house. There are a few shops along the way should you need to buy water or a cold drink. It gets hot out there so make sure you drink enough! We even had offers to join them for a few beers!
You can turn around at the end of the village and return the same way back to town, or continue on the sealed road, which makes a loop back into Kompong Chhnang. The total distance is about 10km's and is flat, so very doable for every fitness level.
Just past the village, at the Buddhist temple, there is a path to the right that will take you to the hill of Phnom Santouch. You will be able to see the Linga or Phallus shaped boulders protruding from the top of the hill. It is just a short walk as its not very high, but has great views.
At the next t-junction turn left onto Route 53 and head the last 3kms back into town.
All in all an immensely enjoyable ride and a chance to really interact with the locals.
Like It? Pin It?