THIS POST MAY CONTAIN COMPENSATED LINKS. FIND MORE INFO IN MY DISCLAIMER.
The road was long and dead straight. All around us, the terrain was flat with hard packed earth covered in little black rocks. It was a harsh environment, otherworldly, like Mars. But in the far distance, we started to see something soft, fluid and beautiful rising up on the horizon… the huge orange and pink sand dunes of the Sahara Desert. This was our final destination for the day, the town of Merzouga in Morocco.
Our entrance into town was not what one could call a smooth ride! Delightful maps.me had plotted our drive according to the quickest possible route, not necessarily the best possible route, so our campervan trio spent the last 3km bouncing along sand and gravel tracks intended solely for use by 4×4's. With much bouncing and shaking and a few skiddy moments, past camels, palm trees and an oncoming car, we finally made it onto what I guess you could call the main road.
The sight of magnificent riads greeted us, their high mud walls elaborately decorated to resemble Moorish castles. We tootled on up the road, over a small rise and blow me down, if we weren't almost in the dunes! Huge orange dunes rose up before us, while caravans of camels lay waiting to escort tourists to watch the sunset in the desert. Woohoo, we're in the Sahara Desert!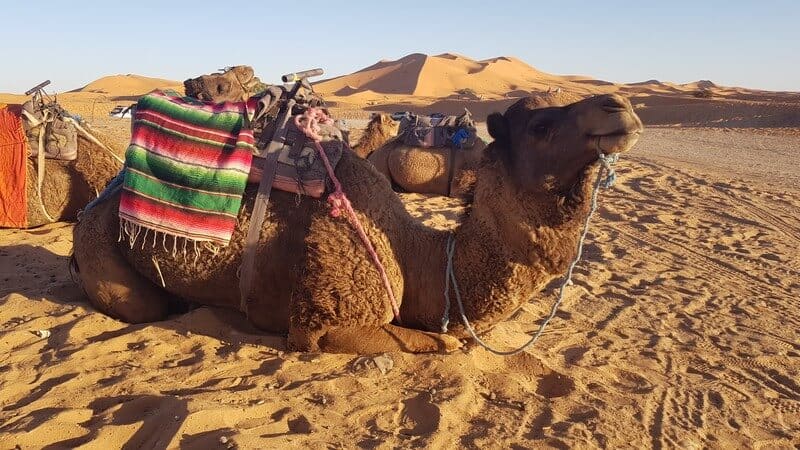 We were staying at La Gazelle Bleu Camping (31.091019, -4.00436) and even that was like a full-on castle with high walls and turrets. The high walls, we learned, were to offer protection from the sand storms and not as protection against people. Dear Mohammed, was there to greet us at the impressive gates and get us settled. The camping was right next to the dunes, so with no time to waste, Tai and I rushed out the gates and headed out for a camel ride. Well, that's what I imagined us doing. When we got close to the camels, Tai informed me that there was no way on earth that he was getting on or even going near a camel. It was just not going to happen. This could perhaps be my fault, due to the recounting of my first trip to Morocco.
23 years ago, I backpacked for a month through Morocco with a girlfriend. We did a camel tour into the desert from Zagora and spent the night in the Erg Cheggi sand dunes of the Sahara Desert. I must admit that riding a camel has to be one of the most ungraceful things I have ever experienced. You kind of lope from side to side, while going forward at the same time. It's a strange motion and not very comfortable. The next morning, we were pretty bruised on our inner thighs, so decided to sit side saddle on the way back. This was in fact, far more comfortable. At one stage my friend actually fell off the camel and once on terra firma, she point-blank refused to climb back up, so ended up walking a fair distance back to town!
So that tale, combined with my stories of how badly the camels smelt and the constant flies on them, had created a picture in Tai's head and despite the camels not smelling and the saddles looking far more comfy than the ones we had, there was no way Tai was going to ride a camel. So, we enjoyed walking in the dunes for a bit and then headed back to camp.
We were offered tagine or couscous at the campsite, but it had been a long day behind the wheel and we needed to loosen our muscles with a bit of exercise, so off we set for the 15minute walk into town. Quad bikes and scrambler motorbikes roared past us after their day's excursions into the dunes. Caravans of camels were led past us on their way home, their bodies creating silhouettes as the sun dipped down behind them.
The centre of town was comprised of three streets forming a triangle with a central paved pedestrian area and about 40 shops and restaurants on the outer sides of the streets. We had a good mosey around the place before deciding to eat at a restaurant that had been made to look like the inside of a cave. Very innovative and weird, but we had a wonderful meal of tagines and Berber omelettes. They even served wine, although we had to wrap a cloth around the bottle so no-one could see it. Apparently, the theory goes that if Allah can't see it, it's okay.
The next morning was Tai's birthday. A mighty 12 years old!!! More like 12 going on 30 – lol!
I had organized for us to go sandboarding in the dunes as his birthday surprise, but that would only be later in the afternoon. His biggest birthday wish was to spend an entire day playing computer games, so he woke at the crack of dawn and was buried in his laptop with a huge grin on his face for the better part of the morning.
At 1pm, Säid (www.deserttoursmarocco.com) arrived to collect us in his 4×4 and off we headed into the desert. It was an exhilarating ride careering through the dunes, flying over the hills and delving down into the dips, while hanging on for dear life. About 20 minutes in, Säid stopped that car and out we got. For as far as the eye could see, there were dunes, hundreds of dunes stretching far into the distance. We crested a dune and there below us was a whole Bedouin tented camp. White tents with Persian carpets and ornate Moroccan lanterns. It was so beautiful!
As is Moroccan culture, we had to drink mint tea before we could sandboard and then the fun began! The boards were carried to the top of a dune and we started off just sitting on the board and flying down the dunes. I won't lie, the walking back up the dunes in the heat nearly killed me, but it was worth it just to feel the rush of flying down the dunes.
Then we tried standing up. Tai was amazing! He got it first pop and was soon screaming down the steepest parts. I wasn't as good. I had a big fall on my first ride down and hurt my coccyx really badly. I tried to grin and bear it but I guess there are some things better left to the youngsters, so I let Tai carry on without me. The sun was out, the views were amazing, Tai was getting some fabulous exercise – life was good!
On the ride back to the campsite, Tai got to hang onto the outside of the 4×4 along with a turban-wearing Berber. It was the cherry on the top of an awesome birthday for him. How many kids get to spend their 12th birthday sandboarding in the dunes of the Sahara Desert? I'm not sure Tai realizes quite how lucky he is right now, but hopefully, he'll look back on these moments later in his life and he'll realise what a truly incredible childhood he was lucky enough to have.
Like It? Pin It?