THIS POST MAY CONTAIN COMPENSATED LINKS. FIND MORE INFO IN MY DISCLAIMER.
I can't say I have ever been known as an early riser, so imagine my glee when both my new traveling partners said they only woke at 9am which would make 10am a good time to get going! I think I'm really going to love our traveling trio!! At 10am on the dot, we revved our engines and set off out of the docks. Tai and I had been nominated to navigate, so were leading the pack. I entered our destination into Google maps, hit the direction button and that was when I realized we had a problem! There was no "start" button, only a "preview" button. The "start" button is the automated GPS with a lovely voice telling you when to turn or slight right. The "preview" button only showed the route and where you were, but you had to manually keep moving the map and no one tells you when to turn. So that meant Google Maps was out and we would have to use Maps.me. Not a problem, save for the fact that I had spent months plotting all the places and campsites I wanted to go to into Google Maps! Our trio was already moving and I was driving so no time to replot our route in Maps.me, so Tai became the navigator, manually moving Google Maps and telling me when to turn. He did extremely well, but we did take two wrong turns causing our fellow travelers to have to double back here and there, but all was forgiven with big smiles. The route from Tangier-Med docks took us East towards the Spanish enclave of Ceuta and then South along the coast on the N16, to our destination of Tetouan. The first part of the trip took us through beautiful countryside of rolling green hills with little villages clinging to the hilltops. I'm not sure what I had expected, but it was so incredibly green! At the town of Fnideq, we changed to the A6 and paid a nominal fee at the toll booth. About 4km later, I was instructed to leave the highway taking us back to the N16. This was our first mistake, but it turned out to be a great mistake, as it took us along the coast through the pretty blue and white coastal towns. Huge paved boulevards with ornate street lights lined the coast. Everything looked pristine – a far cry from what I had imagined Morocco to be like. Using our trusty parking app – Park4Night – we located a carpark where we could safely leave the campervans, while we investigated the town of Tetouan. Our first Moroccan town – so exciting!!! The road into town was steep, zigzagging through the sideroads to the centre of town. School finished for the morning and suddenly the streets were thronging with youngsters, many of whom were exceptionally wary of Jorka, the border collie. A few of the brave came over for a tickle but most kept their distance. Tai and his blonde hair was quite a hit with the girls and there was much giggling, blushing while pulling their scarves completely over their faces to hide their stares. An important task needed to be completed before we could do anything else. We all needed a local SIM card and data, so as to connect with the outside world. Maroc Telecom was our first stop. This is when we realised we were in Africa. As they say "We may have a watch, but they have the time!!" Almost 2 hours later, we had SIM cards and data loaded. 1GB of data costs only 10 Dirham (€1 or R14). It doesn't matter how much you buy, the cost stays the same, so 10GB costs 100 Dirham (€10 or R140). We were pretty disorganized, without a plan of where to go or what to see. Someone mentioned the Kasbah, which we located on Maps.me and off we set. The route took us steeply uphill, past busy market stalls and roads lined with blue Mercedes taxis waiting for passengers.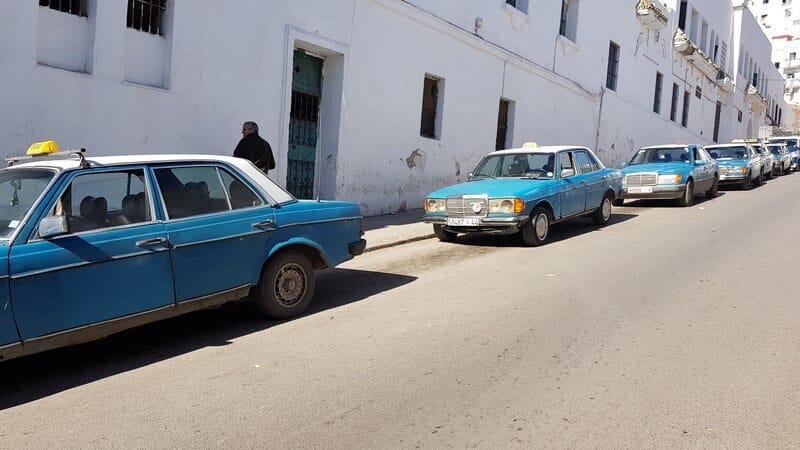 There were a group of young boys playing soccer near the high Kasbah walls. They informed us that the gates were locked and that sadly we would not be allowed in. Tai kicked the ball a bit with the kids, while we formed an action plan. We were all feeling a little weary and sustenance was required so a quick check on Tripadvisor to find a place to eat and we were off again. We were pretty high above the city so got some wonderful views out across the roofs, before descending down a narrow flight of stairs leading down to the ancient medina. A medina is an old city, made up of warren like alleyways that bend and twist with no rhyme or reason. Some had such low rooves that we had to bend as we walked. Down, down, down we went, past limewashed walls and intricately carved old doors, stopping to tickle cats and greet locals. We soon found ourselves in a walkway absolutely brimming with stallholders, their wares spread out on material in the street. Arab music filled the air, which was heavily scented with the smell of pastries and spices. We were jostled along by the crowds, stopping every now and again to take a closer look at an item or to wait for one of our trio to catch up. There was everything from tagines to tape recorders, baklava to balaklavas, nike trainers to nighties, crafted silver and pottery amidst cheap Chinese plastic and everything in between.
Navigating the medina was proving to be a nightmare, but we were saved by a carpet salesman! "Come come my friends. Come look at my shop and then I'll take you to the restaurant" but we were all seasoned travelers and wouldn't be falling into that trap. "We'll come to see your shop after lunch", we said, trying to brush him off and continue on our way. How wrong we were. He really genuinely was there to help us and personally escorted us to the restaurant. He even organized our table, took our order and stayed for a chat. He wanted nothing more than to be friendly and to welcome us to his country. It was our first tagine and it was exceptional! I had harira soup, then a beef and prune tagine that was sweet and delicious and finished off with coffee and pastries. A three-course meal for 110 dirhams (R150)– I think I'm going to enjoy this country.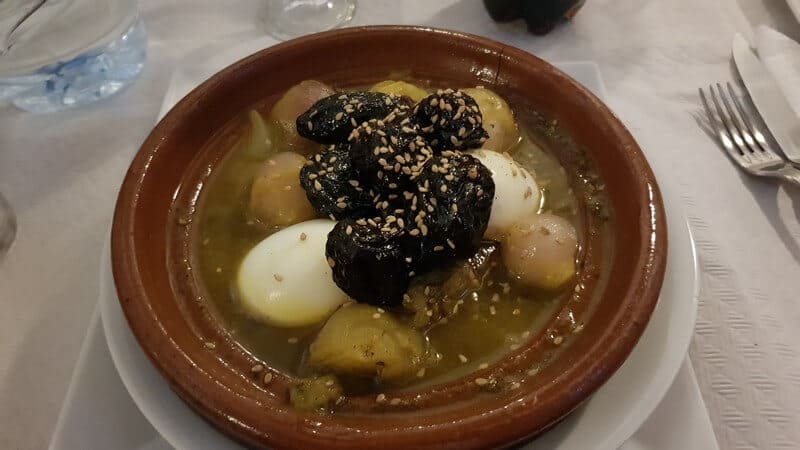 The restaurant was a beautiful riad with luxuriously decorated rooms going up three levels with a rooftop terrace looking out over the whole town. Intricate mosaics covered the walls and floors with ancient carved wooden doors and wrought iron balustrades. The owner was incredibly proud and took us on a guided tour of all the rooms. It was really beautiful!
Tai disappeared as soon as he had finished eating, only to be found playing UNO with 8 young Moroccan girls. His little harem – lol!
The sun was setting so we made our way back to the campervans and on to the campsite at Martil for the night. Camping Martil (N 35 ° 37'43.6764 "W -5 ° 16'39.612"). Day One in Morocco, done and dusted! So far it's got a huge thumbs up!
Like It? Pin It?