THIS POST MAY CONTAIN COMPENSATED LINKS. FIND MORE INFO IN MY DISCLAIMER.
We were in Pai in Northern Thailand, wondering where to go next, when I heard about an adventurous 4 hour boat cruise that took you down the Kok River from Thaton to Chiang Rai. That sounds fabulous – we're in! But as it turned out, getting there wasn't quite so easy. The major travel route is North West from Chiang Mai to Pai, with only a few daring souls going North of Chiang Mai up to Chiang Dao. We needed to stop halfway between Chiang Mai and Pai and then go North to Chiang Dao and beyond. "Sorry, bus no go there," I kept being told, but I'm not so good with no's and far better with challenges, so we forged ahead! The solution was to pay for a minivan ride from Pai to Chiang Mai, but to get off at the halfway town of Rim Nuea and from there to catch the local bus up to Thaton.
We set off at the crack of dawn, but drew the short straw and ended up on the backseat of the minivan. Our fellow travellers decided to close the curtains, which under normal circumstances would have been fine, but we were about to embark down a mountain with 762 switchback curves. Lets just say things didn't end well and I was ever so grateful for the extra plastic bags I found in my bag! Yuck!
We were rather unceremoniously dumped on the side of the road in Rim Neau, with no clue as to where the local bus was, but after wandering a little bit up the road we found a bus stop and hoped it was the right one. The locals clearly didn't see many tourists here as we seemed to because quite a stir as we passed the market, so lots of smiles and Swadika (hello) were exchanged. It was March and boy was it hot and yet looking around the bus stop, there were people dressed in polar necks, scarves and gloves, all to ensure their skin remained unburnt and as white as possible.
The local bus we were catching runs North from Chiang Mai stopping at Mae Taeng, Chiang Dao, Fang, Mai Ai and ending in Thaton. Departures from Thaton are at 06:25, 08:00, 09:30, 11:30, 13:00, 14:25 and 16:15 with a cost of 120 baht and a total travel time of four hours.
The windows were down, the ceiling fans were hard at work and the scenery was spellbinding, while the little bus chugged us through the mountains. This was probably the most beautiful bus ride I had in Thailand. This area is the breadbasket of Thailand, with the majority of the country's vegetables being grown here. The land was rich and lush, with symmetrical rows of cabbage, strawberries and morning glory. The wealth in this area was evident as magnificent temples had been built as often as every kilometer.
Our stop for the night was in a town called Fang. Our hotel was right next to the Tesco Lotus which greatly excited Tai. They have food courts with a multitude of stalls each specialising in a select few dishes. We have always had great meals here for ridiculously cheap prices (40 baht a meal), so if you're on a budget, find a Tesco Lotus!
We grabbed a motorbike and hit the town to see the sights. Up on the hill in town were a couple of temples for us to explore. The first was Wat Chong Paen, with its layered green roof and teak floors. Wat Tong Run was an imposing red brick temple, but our favourite was the Buddhist Monastery just up the road. There must have been about 40 monks, of all ages in the temple for evening prayers and their chanting song was absolutely mesmerizing. We found a bench under a tree to sit and listen to their harmonious voices. I didn't want the moment to stop.
We were up early the next morning and heading into the mountains on our motorbike, a semi-automatic that required me to work the clutch and gears! It took a few tries to figure it all out and then we were off, although at a much slower pace than usual.
The area around Fang is true farming country and the views over the perfectly symmetrical fields up towards the mountains was beautiful. We closely missed an enormous bright green snake slithering across the road. It must have been at least 3m long! I did a quick swerve and hit the accelerator. No ways I was sticking around to take a closer look!
Back on the local bus we hopped for the last stretch of the route to Thaton. A dusty little town on the Kok River. Blink and you were out the other side! We found a lovely hotel on the banks of the river with a very welcome swimming pool where we relaxed for the afternoon. With hunger setting in we took a stroll down the main drag only to find that we were too late! 7pm and all the restaurants had already closed for the night, so some crisps would have to do.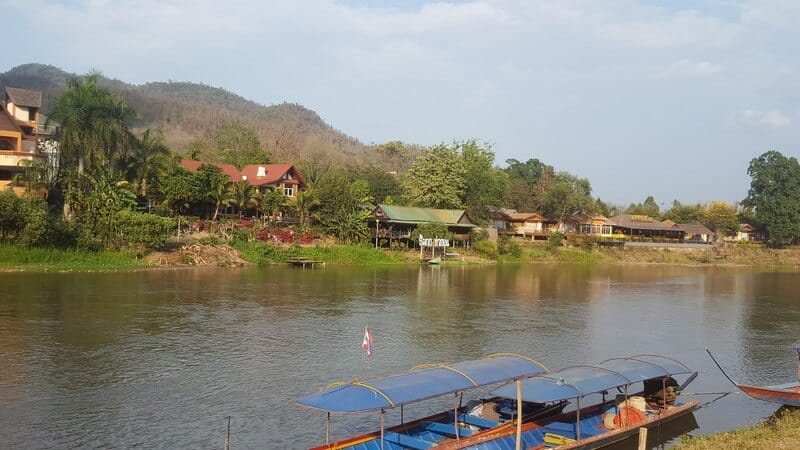 The next morning we were up early only to be told that the local boat was no longer running as the water was too low. From May to July is their dry season so this is often the case at this time. We could, however, hire a private longtail boat for 2300 Baht. The local boat would have cost 350 Baht so this was more than we had bargained for, but there was a British couple also wanting to take the boat to Chiang Rai, so we decided to hire the boat together and split the fare.
The boat ride was an experience of a lifetime! Flying through about 60cm of water, crashing against rocks and navigating through big rapids. It was exhilarating and wildly exciting. At one point the water was so low that we had to get out and push the boat!
All along the shores we past nomadic herders and young kids swimming in the river. Our passing involved lots of hand waving and laughing. Along with the domestic animals grazing, there were also herds of water buffalo cooling down in the muddy waters and the birdlife was fantastic.
Halfway through the 3 hour journey, we stopped at a tribal village where we could buy cold drinks, beers and sweets. The young kids were very persistent in selling us woven bracelets, but looking around at the poverty, we were happy to be assisting in some small way. Wandering around the village also gave us a glimpse into their tribal way of life.
All too soon, we arrived in Chiang Rai. Our adventure was over, but new adventures were in store just around the corner.