THIS POST MAY CONTAIN COMPENSATED LINKS. FIND MORE INFO IN MY DISCLAIMER.
Hot air balloons rising at sunset over stupas and temples which dot the countryside as far as the eye can see. Watching Sunsets over this magnificent landscape from the top of temples. Vibrantly coloured festival parades. Driving on soundless electric motorbikes. Lazing at the pool during the hot dusty afternoons. This is Bagan.
We took the overnight bus from Mandalay to Bagan, where we were offloaded at our hotel at the ungodly hour of 4 am! Check-in time = 12pm! The poor bleary-eyed receptionist showed us to a tiled waiting area where we grabbed some sarongs and clothes and tried to create a makeshift bed. All was not lost though, as one of the highlights in Bagan is to watch the sunrise from atop one of the hundreds of temples and pagoda's spread throughout the countryside.
At 5 am, wrapped in our down jackets, we jumped on our rented electric scooter and headed to the Shwesandaw Pagoda. And oh boy, we were not alone! More than a hundred fellow sunrise watchers already graced the steps and 5 terraces of this 100m high graceful white pyramid style pagoda. We managed to find ourselves a perch and sat entranced as the sun rose over the horizon, illuminating the thousands of pagodas and stupas, of varying size and age, dotting the landscape. Hot air balloons filled the sky and there was barely a sound, as everyone sat mesmerized by the beauty unfolding before us.
Driving the electric scooters can be slightly unnerving. Imagine 20 scooters driving along a long, flat highway, with the only sound being the squelching of the tyres on the asphalt. Their frames are much lighter than normal scooters so Tai was able to handle the bike all by himself – which he loved! Although, thinking he was quite the hot shot driver, he did end up driving into a thorn bush! No damage was done… just a bruised ego!
We had 3 nights in Bagan. We spent our mornings watching the sunrise, driving along dusty, sandy paths to find off-the-beaten-track temples, then climbing and exploring inside the pagodas. We wanted to watch sunrises and sunsets with as few people around us as possible, so we purposefully steered clear of the pagoda's on the "must see" lists at these times.

We explored Old Bagan town and Nyaung-U town. We stayed in Nyaung-U, where most of the accommodation can be found, along with a wide choice of restaurants. Thi Ri Pyitsaya 4 Street, also known as Restaurant Row, has a multitude of different restaurants, with Weather Spoons, being one of our favourites.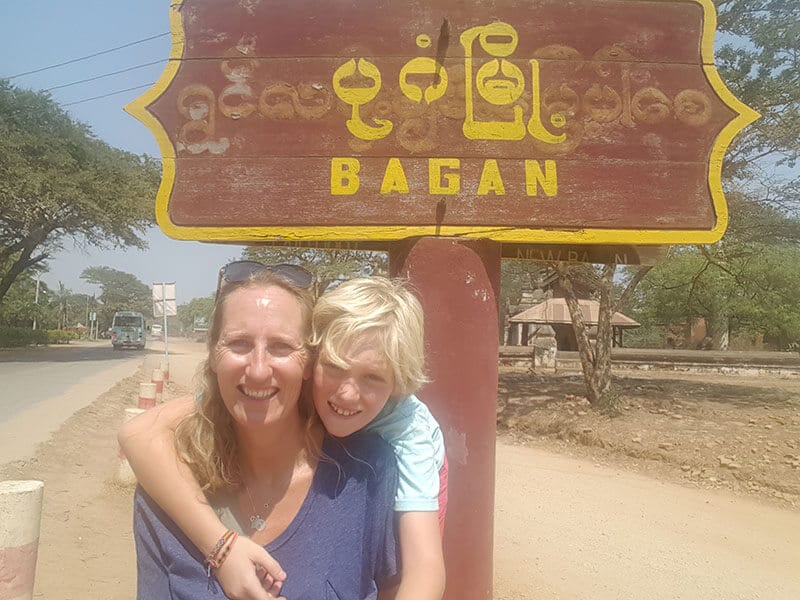 We spent our afternoons escaping the incredible heat at our hotel's pool. I'd highly recommend you splurge a little and make sure you have a pool – it was so worth it! We would head out again around 4 pm to find a temple with a good sunset view, although the sunrise was definitely a winner in our books.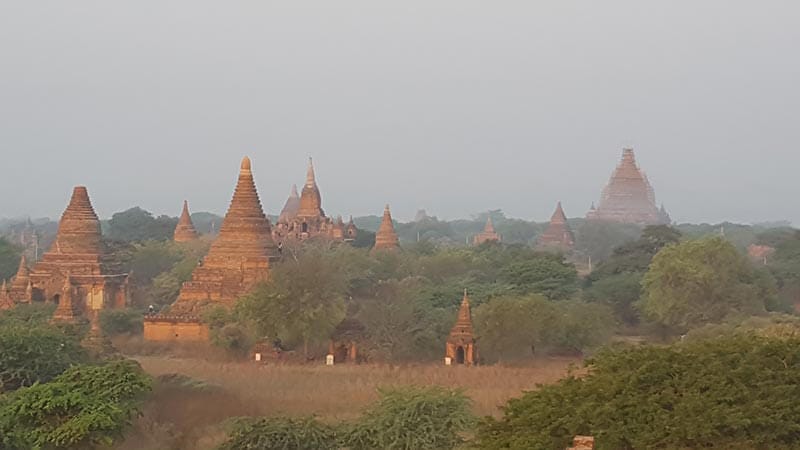 An absolute must is a Burmese massage! Completely different to any other kind of massage I've ever experienced. This is done using a rocking like motion and I can't recommend it enough! Mine was done by a sweet elderly lady, just off Restaurant Row.
There is a fabulous market (Mani Sithu Market) in the centre of Nyuang-U, which is open every day. The nearby Bagan Café is a bakery style restaurant that does a great breakfast.
We were fortunate enough to see a passing festival parade, with people and horses and oxen, all dressed in incredibly vibrant colours, carrying offerings to the God's. I was told this was a Shinbyu ceremony, which is a special coming of age ceremony for young boys as part of the Theravada Buddhist tradition. The procession had numerous young boys, wearing their finest ceremonial clothes and riding atop horses. Each one had an umbrella held above them as if they were royalty. These young boys were all being sent to the local monastery to spend their time as novice monks and this procession was in honour of this new stage in their lives and the blessings it would bestow on their families.
If you are wondering about bringing kids to Bagan, Tai did find all the temples and pagodas a tad on the boring side, but finding ones with bells to gong outside kept him entertained and then the big hit was being able to ride the electric scooter in between the temple stops. The electric scooters are much lighter than a normal scooter, so he was able to manage it better. I let him sit in front and just kept a light hand on the brakes… just in case!!
Like It? Pin It!