Maungmagan Beach, Dawei, Myanmar
A hair-raising 4 hr trip from Mawlamyine to Maungmagan Beach, Dawei in a jam-packed minivan, with no air-con at 40°C, along shocking roads, with a driver who thought he was behind the wheel of a Ferrari! We didn't need the beach for a swim as we were already soaked with sweat from the heat ans sheer terror! Grateful to still be in one piece, we dropped our bags and walked the 10 paces onto the beach… heaven!! Then the heavens opened – what fun we had swimming in a torrential downpour.
After 3 weeks of scorching temperatures and humidity we were so looking forward to finally being able to swim! Well, I was! The Burmese are very modest in their attire and women are required to swim fully clothed, in fact they have what they call "swimming dresses". Not that many of them wear them, they mostly swim in jeans. Each time we arrived at a waterfall, river or water park, Tai would jump in with glee, whilst I sat in a puddle of my own perspiration wishing I could be a little boy. So, with much anticipation of a cool down, I pulled on my bikini and raced to the sea… only to find the water was hotter than my bath!
The sand was moving? Were we going mad? Nope, definitely moving… oh my word…crabs! Hundreds and thousands of tiny almost transparent ghost crabs were moving over the sand like one huge big army. Tai went running through the middle of the mass and it was like the Moses parting the Red Sea. What a sight!
About Muangmagan Beach
Maungmagan Beach is a 30 minute drive west of Dawei. Also spelt Maung Ma Gan it loosely translates as "where the emperor's concubine bathe". Well, the water is hot enough! And the beach is the longest stretch of white sand that seems to go on forever, so I can understand why the concubines would have liked it.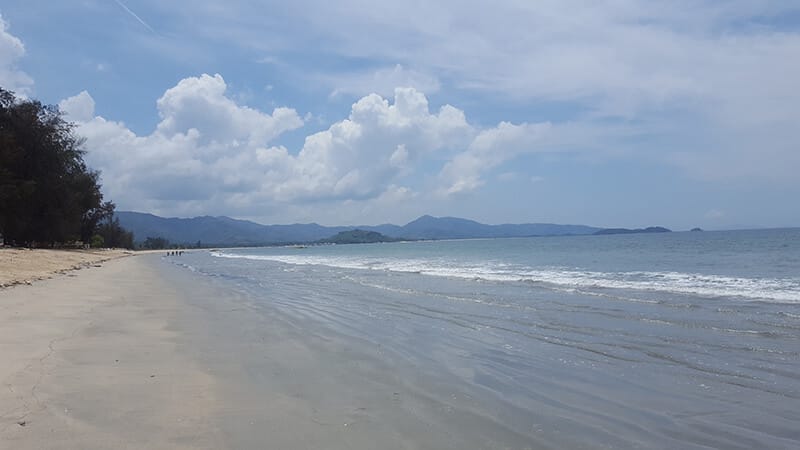 You won't find many foreigners here, it is still most definitely a local hangout where modesty prevails and most swimmers are still fully clothed in jeans and t-shirts. Western costumes and bikinis are not frowned upon, but I did get a few strange looks. Then again, being two blonde foreigners got us some strange looks even when we were fully clothed.
The weekends can be quite hectic with locals playing soccer, picnicking and floating in blown up inner tubes that are for rent all up and down the beach, so if you're looking for some peaceful beach time, try aim for weekdays instead of the weekends.
Where to Eat on Maungmagan Beach
The North side of the beach has a long stretch of family style restaurants and shops selling clothes and souvenirs. While the beach has vendors selling food, sarongs and trinkets. The restaurant at the Maungmagan Beach Resort is a lovely location, right on the water and the food was good.
Where to stay at Maungmagan Beach
We stayed at the Maungmagan Beach Resort, which was right on the beach, so a great location, the staff were friendly and spoke a splattering of English, but it definitely was rather on the pricey side for what they had on offer. Used to only serving locals, they had not one single knife for us to eat with. I wasn't entirely sure this was the real truth until I realized that Burmese only use a spoon and a fork. If you need to cut something, you use the handle of the fork in a type of sawing motion! Well, when in Rome!
The other accommodation option is the Coconut Beach Resort, although it isn't on the beach.
Maungmagan Beach Resort: Booking.com or Agoda.com
Coconut Beach Resort: Booking.com or Agoda.com
Like It? Pin It!