THIS POST MAY CONTAIN COMPENSATED LINKS. FIND MORE INFO IN MY DISCLAIMER.
Finally, after 6 months of planning, plotting and stressing, we made it to Lima, Peru for the start of our South American adventure. We are beyond excited to start what we hope to be a truly incredible adventure!
I am planning on writing a weekly roundup of all we do, so you can follow on our journey and hopefully use our information to assist you in planning your own adventures in South America.
MEETING OUR CAMPERVAN, THOR
The reason for starting in Lima, was our new campervan – THOR – which we were buying from a fabulous French couple, Sandra and Benjamin. Our last campervan, Miles McFlattery, was our first foray into the world of motor homing and we were hooked. The ability to travel whenever you please, stop when you want and sleep wherever tickles your fancy, gives one a phenomenal sense of freedom. Not to mention never having to pack and repack bags, being able to cook in your own kitchen and oh so importantly, to use your own loo!
Miles McFlattery took us on two magical adventures through Western and Eastern Europe and Morocco and now Thor is going to be our home in South America. Thor is one beast of a machine, with a thunderous engine and enormous 4×4 tyres. His living space is luxurious and unlike old Miles, everything in Thor works – lol!
WHAT WE DID IN LIMA, PERU
Arriving at the hostel at 3am and not wanting to wake the people in the dorm room, we simply fell into bed with our clothes on. We had been flying for almost 28hours so to lie perfectly horizontal felt like heaven!
We spent the next few days trying to adjust our body clocks as we were now 7 hours behind South Africa. I could barely keep my eyes open past 7pm and woke bright and early at 4am. Not that we minded, as this was the perfect time to wander and explore without crazy traffic and busy sidewalks.

Our plan for Lima was to take it easy and acclimatize to this new continent. We also had some admin to do ensuring that all the vehicle documentation was correct and needed to get our visas for Bolivia.
SPANISH LESSONS
Everywhere we have travelled, we have been lucky enough to have our English understood, but South America is definitely not going to be so breezy. Everyone here speaks Spanish so it is imperative that we learn some of the basics as quickly as possible.
There are many Spanish Language Schools that do crash courses, but a friend but us in touch with our personal Spanish teacher, Julio. For four mornings, he patiently tried to teach us the basics, so that we could order in a restaurant, greet people and ask for things.
Reading Spanish, I can now recognize a fair few words, but when speaking to locals, I don't seem to understand a thing! They speak so fast, so the next phrase I'm going to learn is.. "Please speak slower".
We do have a secret weapon though. Google Translate. This incredible little app allows us to have proper conversations without understanding a word of Spanish. We put it in conversation mode and then I talk in English and it translates, then they talk in Spanish and it translates. Its brilliant and I have no doubt it will save our bacon many times over in the coming months.
CYCLE ALONG THE MALECON
The city of Lima lies on the coast of the South Pacific. It has a strange topography, with only beaches and the highway found at sea level, while the rest of the city perches high above sheer cliffs. A promenade or Malecon stretches the length of the cliffs, offering panoramic views out over the ocean. The Malecon is dotted with parks, beautiful gardens and a fantastic cycling path, so we grabbed the free bicycles from our hostel and set off for the day.
From Barranca, we cycled down to the beach at Playa Makahu to watch the surfers. It was great riding along the shore but then had to carry our bikes up the steep stairs back up to the Malecon, so the downhill ride wasn't the best idea after all.
In the Parque de Amour (Park of Love) we stopped for a look at the statue of El Beso (The Kiss) and to enjoy the colorful flowers in the gardens. The view out over the ocean from here was splendid and we even had huge condors circling overhead. Condors are a type of vulture only found in the Andes and in South American coastal areas.
CUDDLING CATS IN KENNEDY PARK
Anyone who knows us knows how much we LOVE cats! So, to find a park that is a dedicated home to a bunch of cats, was like heaven! Kennedy Park, also known as Cat Park, is in the heart of the Miraflores district. At one stage the park was so overrun with cats that it was causing a problem. As a result, the city relocated vast numbers of them to other parks and rumour has it that sadly some were poisoned.
There were probably 60 cats in the park while we were there. All just chilling out in the sun and being petted and loved by passersby. We saw lots of pellets laid out for them everywhere, so they clearly are being looked after very well. Most cats are shy, but these guys were incredibly friendly, with one even running over to me meowing and promptly jumping into my lap and settling down.
I always say that it doesn't matter where I am, when I have a cat in my lap, I feel like I'm home!
We visited the park on a weekend, so the craft market was in full swing. Lots of incredibly talented artists had their paintings for sale, home craft stalls were selling a variety of t-shirts, knitted goods, trinkets and more.
We tried a local sweet treat, called picarones, which are like hot doughnuts covered in syrup – delicious!
BRIDGE OF SIGHS
In Barranca district is the Bridge of Wishes. Legend has it that you must make a wish and hold your breath while you walk across the bridge. If you make it to the other side, breath intact, then your wish will come true.
Tai and I held hands, made our wish and started across the bridge. He walked so slowly and kept pulling me back so by the time I arrived at the other side I was puce in the face. But I made it, so here's hoping the wish comes true.
The Bridge of Sighs can be found above Bajada de Banos, which is a pedestrian walkway leading down to the beach. The street art here is some of the best in all of Barranca, so well worth a visit.
WANDERING IN BARRANCA
Barranca is the bohemian district in Lima. This colorful district crept into our hearts with its funky eateries and festive mood. Walls are covered in wonderful murals showing great artistic flair, the houses are bright and colorful and Spanish music could be heard wherever we went. It felt alive, welcoming and fun.
The Barranca Plaza was a block away from us. No matter the time or day, the plaza was always busy with buskers belting out tunes, old women selling piles of churros stuffed with caramel (known here as dulche leche) or those just relaxing in the pretty gardens.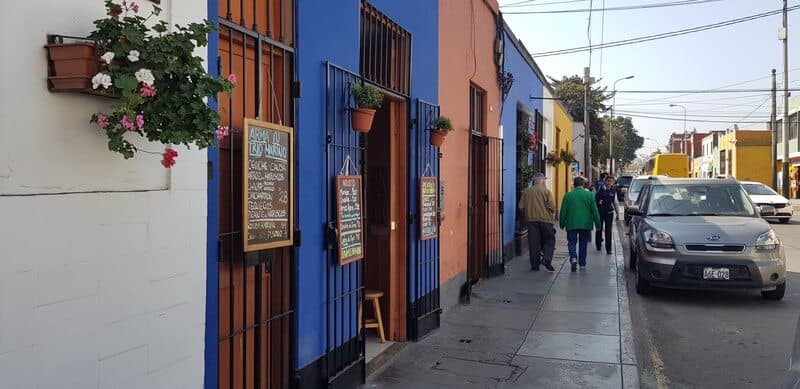 This area is also known for its craft beer breweries and we noted a few funky tasting rooms.
One of the most notable things for us was the wide range in architecture from Tudor houses with wooden trims to Gothic houses with turrets and stained-glass windows, from Georgian mansions to modern houses. You never knew what you were going to see next.
EATING PERUVIAN CUISINE
I have to say, one of our biggest delights was the food. It is to die for delicious! I'm not a foodie, but yum yum yum!
We stumbled across a little market and down in the far back corner was the most happening restaurant around, Canta Ranita. I know this because we went back 3 times and the last time, we had to queue for an hour to get a table! And yes, we and everyone else, were prepared to wait as the food was so amazing.
First up, ceviche, which is raw fish marinated in lime juice and served with red onions and a dash of chili. Next, Arroz con Mariscos, which you would know as seafood paella, but rich and creamy and covered in parmesan. Being on the coast, seafood makes up the majority of the food, so we feasted on fresh fish, prawns and lots of avocado.
HIRING ELECTRIC SCOOTERS
Everywhere you go in Lima, you will find what appear to be abandoned electric scooters but take a closer look and you'll soon be zipping around sightseeing in the city. These are in fact scooters for hire and are activated via mobile apps. There are two different companies operating the bikes -green bikes are GRIN and blue bikes belong to MOVO.
Setup is simple. All you need to do is download the app, register your details and your credit card and you're good to go.
Once you find your scooter, open the app and scan the barcode hanging on the scooter's label. The scooter will instantly be turned on and time will start tracking. You pay per minute and Grin charges S / 0.60 and Movo S / 0.50, which is deducted from your credit card as soon as your trip ends.
Lima has an excellent network of bicycle paths so you can easily get around while avoiding the traffic. We found the scooters to be not only be great fun, but it was the best way to travel to all the things to see in Lima.
WHERE WE STAYED IN LIMA
Miraflores is known as the backpacking district of Lima, but we needed accommodation that also provided parking for the campervan, Thor. We found a fabulous backpackers called the Kaminu Lodge Barranca, which was in the Barranca district. They have a large parking lot and like most places in Lima, there is a bar across the entrance preventing high vehicles from passing. Luckily, the bar at Kaminu Lodge can be removed, which is how we got Thor in and out.
Breakfast was served in the large communal lounge area surrounded in a tranquil garden space. The showers were hot and the wifi was good. There was a communal kitchen and there were two bicycles that could be used free of charge.
Accommodation options were either 4-bed dorms or a bungalow. The facilities were clean and the manager, Orlando, and the owner, Pierro, were welcoming, friendly and super helpful.
VAN LIFE
I have to admit that I was very nervous about driving this huge vehicle for the first time. Not just for its sheer size, but because the first trip would require navigating the crazy traffic in Lima. On the day we left, my heart was in my mouth, but Tai was a brilliant co-pilot and we easily managed to crawl our way out of the city.
At our first stop we were confronted with our first problem. What type of petrol did it take? There are 3 types of unleaded petrol in Peru. A quick call to Benjamin for advice and we had a full tank and were on our way!
I have no doubt there will be many more issues along the way, but it all makes for an interesting story!
DRIVING DISTANCE
We stayed in Lima for the first week so no info to add here yet.
TRAVEL COSTS
I will be providing our basic travel costs per week, so that you get an indication of what a trip like this entails. Bear in mind that we are budget travelers, so your budget could vary depending on your lifestyle choices. For example, we always opt for the cheapest and often, hole-in-the-wall restaurants and only require very basic accommodation.
For us, the experiences are where it is all at, so we'd rather spend money on activities.
The costs below are for the full 9 days that we stayed in Lima.
The costs below are shown in Peruvian Sol.
Vehicle Costs
Fuel = S/ 0
Parking = S/0
Uber = S/2
We usually walk everywhere but had to go back to the Bolivian Consulate 3 times and it was on the opposite side of the city, which meant lots of Uber trips.
Accommodation
Kaminu Lodge = 69 Soles (2 people in 4-bed dorm plus breakfast) x 9 nights = S/621
Attractions
Food
Restaurant = S/37
Supermarket = S/715
Coffee = S/25
Our supermarket costs are sky high as we did an enormous shop to kit out the campervan with all the basics – sugar, flour, rice, pasta, pasta sauces, olive oils, toiletries, loo paper and more. We also bought a frying pan, dustbin, spatulas and Tupperware.
Van supplies and living
Laundry = S/10
SIM + Data = 35 (sim with 3GB) + 15 (sim with 1.5GB) = S/50
Printing & Scanning for Bolivian Visa = S/28
TOTAL = S/2110.57 ($631)
WHERE TO NEXT
Now the trip really begins as we start to head South. Next stop is Paracas National Park, also known as 'The Poor Man's Galapagos'. Here we hope to see some great seabirds and sea lions and penguins.
---