THIS POST MAY CONTAIN COMPENSATED LINKS. FIND MORE INFO IN MY DISCLAIMER.
Talk about an action-packed week! This one involved boat trips, 4x4ing in the desert, dune buggy rides and snow skiing in sand dunes and a flight in a little 6 seater plane. It was also the start of our travels driving in Thor, our beast of a campervan.
It didn't take long to get the hang of being behind the wheel. It's an automatic, so that part is easy. It's getting used to the width for passing other vehicles that is going to take a little longer to adjust to, but my cheery little co-pilot keeps me in the loop as to how much space we have and if we are about to hit anything.
After our years of traveling he's become quite a pro at navigating, quickly redirecting me if he feels Google maps is leading us down the garden path. When in Serbia, we found ourselves in minuscule streets in the center of town and nearly took off the roof of a nearby house!!! An exercise I do NOT want to repeat!
It was only as we drove out of Lima that we realized that we truly were in the desert. Just sand for as far as the eye could see. Small cinder block shacks dotted the landscape, mostly looking uninhabited and derelict, but the sheer number of them must mean someone is using them. Why anyone would choose to live in this sandy, windy, barren, waterless landscape is beyond me, but I guess they would say the same of us living in big built up cities.
PARACAS
Our first stop was the seaside town of Paracas. We parked in the centre of town and set out to explore. The beach had lovely white sand and the seaside promenade was alive and bustling with funky restaurants, fairy lights and fiesta tunes. Pelicans bobbed in the sea and we were graced with a blood red sky at sunset.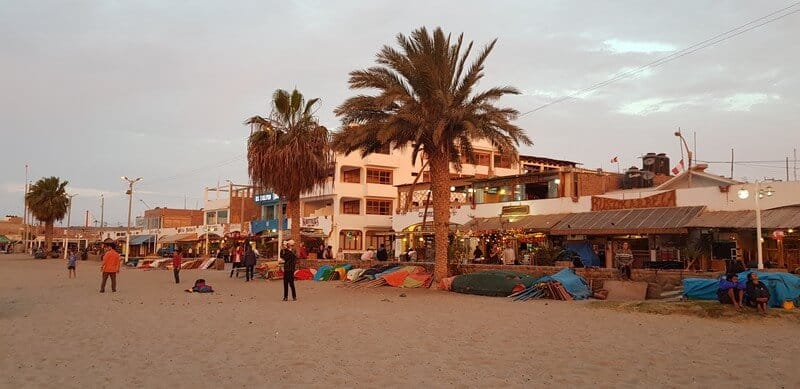 The town is really small, as in it took us about 30 minutes to walk the length of it, but it is rather a tourist hot spot. Known as the Poor Man's Galapagas due to its sea life and the Paracas National Park.
WHAT WE DID IN PARACAS
BOAT TRIP TO ISLA BALASTAS
We were up bright and early for the boat. There were in fact lots of boats all going out and lots of tourists, but the ocean is vast so it didn't feel crowded like some attractions can feel.
We set off following the coast of the Paracas National Park. Pelicans kept swooping overhead and diving for the huge shoals of fish swimming by, while large flocks of pelicans gathered on the shore.
Our first stop was to see the Candelabra of the Andes. This prehistoric geoglyph is said to date back to 200BC at the time of the Paracas culture. The Candelabra is actually deep grooves of about 0.6m that have been carved into the soil and rock of the desert. It is really incredible that it has survived the elements for so many hundreds of years!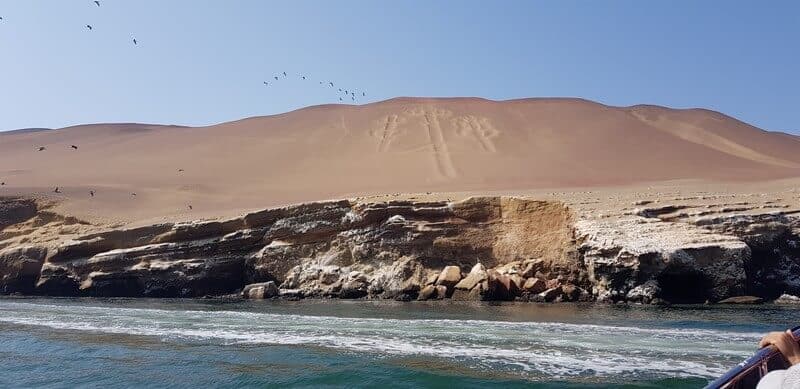 The boat then veered into the open ocean and towards the rocky outcrops of the Isla Balestas. We knew we were getting closer as the smell of the bird guano made our nostrils flare with its acrid ammonia stench! Huge big sea lions draped themselves lazily across the rocks, issuing forth irritable barks when anyone came close. I think the barking was a bit redundant and that the smell of their breath would have sufficed.
Little penguins bobbed in the sea and waddled across the stone beaches, while hundreds of thousands of birds filled the skies and covered every possible nook and cranny. Peruvian Booby's, Belchers Gulls, Guarnay Cormorants, Humboldt Penguins and Peruvian Pelicans. A veritable feast for any twitchers!
At first the trip appears to be very reasonable. S/25 ($7.50) per person for a 2 hour boat trip, but as we are coming to realise, in Peru, everyone needs to take a cut. So first you buy your tickets, then when you get to the port, you pay S/5 for port tax, then you pay S/11 for entry to the National Park. Even so, it was definitely worth it for the experience.
PARACAS NATIONAL PARK
It's a funny thing researching where to go in Google Maps. The park was shown as a green section on the map and being a National park, I just assumed it would be green. How wrong I was! There was nothing but white white sand. Not even a blade of grass! It looked like a watercolour painting.
The reserve is dedicated to protecting and conserving one of the richest marine ecosystems in the world.
Huge sandy cliffs overhung vast stretches of beaches. The perfect place to enjoy a hot summers day, although the Paracas National Park is known for its strong, all year round winds.
Our first stop was Rojo Playa – the Red Beach – and true as Bob, the sand was a blood red colour created by the erosion of porphyry rocks found in the hills of the Paracas Peninsula. Absolutely amazing to behold!
We followed the dirt track over the hill and down to the next beach – Playa Yumaque. A long stretch of beautiful beach with Turkey Vultures and Condors circling overhead. The Condors come down to the coast when the sea lions start having their pups. They then feast on the discarded placentas.
Tai is a rock and fossil nut, so was in his element when we found the site of 36 million year old fossilized seashells from when the now desert was once covered in ocean.
Sadly, this is where our exploration came to a halt due to a screeching noise coming from the rear tyres when we drove. More on that later.
EXPLORATION OF PISCO TOWN
The nearby town of Pisco is a mad, bustling, hooting place. Thankfully we left Thor just outside town and caught a moto-taxi into the centre. Driving Thor in these small streets would have been terrifying!
Pisco is a 15 minute drive from Paracas. It's not a pretty town and not worth a visit if your time is short. We went to the fish market where we got fresh catch of the day for ceviche and to make fried fish. We scooped up some salad things and delicious big ripe avocados and then Tai was treated to what must be one of the most decadent ice creams imaginable by our new friend, Daniel.
WHAT WE DID IN HUACACHINA
The really teeny town of Huacachina sits around an oasis of water, surrounded by skyscraper tall sand dunes. It is the adventure capital of the Ica District. Dune buggies and quad bikes screech across the dunes, while sand boarders and snow skiers come belting down the sheer sides of the dunes. Sunsets are one of the biggest draw cards, covering the dunes in a rosy glow.
We arrived in the middle of one of the biggest holidays in Peru, so the town was bursting at the seams and the parties raged all night. Thumping music, cars hooting and revelers drinking next to cars parked on the road. Luckily Tai and I sleep like the dead, but it was a bit crazy.
We decided to do a dune buggy ride and skiing combo deal. Well Tai was going to try snow skiing while I was happy to just lie on a sandboard to get down the hills. The instructor asked Tai how well he could ski. Tai puffed out his chest and replied, "Well I'm actually very good". When I then explained that Tai had only ever skied for 2 days in his whole life, I thought the instructor was going to wet himself!! Clearly my son is not lacking in confidence!
The dune buggy ride was exhilarating! The driver was crazy, but brilliant, careering up vertical dunes and then down the other side. Tai screamed the whole time! We stopped 3 or 4 times to let everyone fly down the slopes on sand boards and for Tai to go down on snow skies. It turned out he was quite right when he said he was very good!!!
WHAT WE DID IN NAZCA
The Nazca Lines have been on my bucket list for many years now and finally I got to see them from the sky!
These enormous geoglyphs are formed by depressions or shallow incisions made in the soil of the Nazca Desert in Southern Peru. Their purpose and who created them is still a mystery, but some think they were created as astrological signs or to be seen by deities in the sky. Either way, we have been left to marvel the hundreds of shapes carved into the desert. From animals, plants and fantastic creatures to geometric shapes and lines stretching into the horizon, the Nazca lines continue to mesmerize.
The best way to see the lines is from the sky, where their sheer size can best be experienced. En-route from Ica to Nazca, we passed right by some of the Nazca lines. A really high tower has been built and if you climb up, it is the only place to see the lines without being in a plane. It cost S/5 to climb the tower and it was a little disappointing. I was even a little weary that these lines were not real. From up in the sky they are way more remarkable.
We spent the night in Thor in the airport parking lot and at 7am I was up on the sky! Tai got to ski in Huacachina so this was my treat. At $65 for the 45 minute flight, it was a bit steep but oh so worth it!
Just 6 of us in a little plane that banked left and right, so we all got a chance to see the designs. The co-pilot was brilliant telling us about the lines and telling us when to get our cameras ready. It was just amazing!!
WHERE WE STAYED
We are real spendthrifts so wherever we can we try to wild camp. This means parking wherever we find a safe place. In the bigger cities it is safer to be in a campsite or have secure parking, but in little towns it is easy to find a spot and park up. We always ask nearby restaurants, hotels or residents if it's okay to park.
Paracas:
We stayed right in the middle of town. It was rather noisy at night, but it sufficed.
GPS: -13.834154, -76.248948
Haucachina:
The town was so full due to the holiday so we grabbed the only spot we could find on the street. We got free wifi from the restaurant next to us.
GPS: -14.086771, -75.762420
Nazca:
Wanting to catch the earliest flight we decided to park at the airport. It was for free after 6pm and then 5 soles per hour during the day. We paid 15 soles for our time there.
GPS: -14.854762, -74.960297
VANLIFE
Life on the road is not always rosy. In fact a lot of the time its pretty stressful. What was supposed to be a wonderful adventure into the Paracas National Park turned into a heart stopping, tummy clenching day.
We hadn't been traveling for long when we heard a grinding noise coming from the rear tyre / axel part of the car. I had Tai run alongside as I slowly drove so he could try and figure out where the noise was coming from. At the first parking lot, I pulled over and stopped. What now? We were in the middle of nowhere with no one to help. If I drove it further would I be creating more damage?
A few minutes later a bunch of dune buggy's stopped near us. Tai struck up conversation with the tour guide, a Venezuelan named Daniel. He came over to see if he could help. His English was perfect and after listening to the noise he told us to take the van to his house that evening and he would take a look for us.
That evening happened to be Halloween so the streets were full of trick or treaters and my night blindness means I don't like driving at night, so early in the morning we knocked on his door and presented Daniel with our limping van.
He spent a good few hours taking the huge wheels off while we chatted about our respective countries. His wife, Johanna was pregnant and they had an adorable little girl called Isabella. The issue with the van turned out to be a broken spring in the break disk, so thankfully nothing too dramatic.

Now this is when the story takes a turn for the better and once again I know we have angels watching over us. After all his hard work Daniel did not want payment. He said he was doing it from his heart. Isn't that amazing? So to try in a very small way to thank him, we decided to make a day of it with him and his family. We all jumped in Thor, Daniel at the wheel and off we set to nearby Pisco town. As we drove through Paracas, Daniel shouted and waved at all his mates, beaming with pride at driving the beast that is Thor.
It was wonderful having a tour guide in Pisco and not once having to check Google Maps as to where we were or what we were doing. We just blindly followed their lead through the markets and crazy streets. Shopping done we headed back to Paracas where Daniel and Johanna cooked up a feast of fried fish, ceviche, salad and aripa, which are Venezuelan corn cakes. What a wonderful day it had turned out to be after all! Thank you Daniel for turning us from feelings of despair to a renewed faith in human kindness.
Damn Doors:
We stopped in a village to grab a drink. Tai opened his door and then couldn't close it? What now!
It appeared that the bumpy roads had made the door jolt upwards and now the metal at the top was banging and preventing it from closing. Off my sprog went to find help and a few minutes later came back with two mechanics. Their solution was for one to hang on the door and try and bend the metal down so the door could fit again. They yanked so hard, I thought the whole door would fall of its hinges, but it worked! Now Tai is not allowed to open his door for fear it won't close again!
What I learnt this week:
Thor is an insane gas guzzler. Way more so than anticipated. I think we're looking at 25litres per 100km which is insane! Need to find a way to reduce this so we're driving at 75km/h. Only getting 400km out of a tank is a problem with the big distances we are planning on driving.
Peruvian air pressure hoses don't show the pressure! Go Figure!!
We couldn't survive without Google Translate! We had to change the oil and get a new oil filter in Nazca and spent a humerous hour chatting to the mechanic and his mates via the app.
DRIVING DISTANCE
Our route: Lima – Paracas – Pisco – Huacachina – Nazca
Distance: 515 km
TRAVEL COSTS
I will be providing our basic travel costs per week, so that you get an indication of what a trip like this entails. Bear in mind that we are budget travelers, so your budget could vary depending on your lifestyle choices. For example, we always opt for the cheapest and often, hole-in-the-wall restaurants and only require very basic accommodation.
For us, the experiences are where it is all at, so we'd rather spend money on activities.
The costs below are for 7 days.
The costs below are shown in Peruvian Sol.
Vehicle Costs
Fuel = S/ 1094.27
Parking = S/ 15
Uber = S/0
Repairs = Oil change, new filter and getting door fixed = S/ 275
Toll Road = S/ 50
Accommodation
Wild Camped all week = S/ 0
Attractions
Isla Balestas Boat Trip = S/ 74
Paracas National Park = S/ 14
Dune Buggy and Skiing = S/ 120
Nazca Flight = $65 + $10 airport tax = $75 (S/ 255)
Food
Restaurant = S/ 147
Supermarket = S/ 83
Coffee = S/ 11
Van supplies and living
Laundry = S/ 0
First Aid Kit = S/ 64
Apparently the cops want to see a proper first aid kit if they stop you, so we decided it was a god thing to invest in.
TOTAL = S/ 2202.27 ($652)
WHERE TO NEXT
We are continuing to make our way South. Our next destination is the city of Arequipa, also known as the White City due to the buildings being built using white volcanic stone. The city of Arequipa is surrounded by three volcanoes creating dramatic views from rooftop viewpoints. Whilst in Arequipa, we will also be doing a 3 day trek in the Colca Canyon.
---